11 Października 2006 powstała PSOT czyli PKiMowska Sekcja Obliczeniowo Teoretyczna. Założycielami są: Mariusz Wiśniewski, Przemysław Żołądek oraz Karol Fietkiewicz.
Poszukujemy osób zainteresowanych udziałem w pracach sekcji. Nie wymagana jest wiedza o meteorach. Budujemy zespół ludzi chętnych do analizowani danych naukowych.Jesteś zainteresowany, nie wahaj się do nas napisać.
IMOgena


IMOgena jest pakietem oprogramowania przeznaczonym do szeroko rozumianej redukcji danych pochodzących z sieci bolidowych. Jest to system o strukturze modularnej gdzie poszczególne aplikacje wymieniają informacje między sobą przy użyciu plików o określonych formatach. Poszczególne moduły są przykładowo odpowiedzialne za astrometrię, wyznaczanie trajektorii czy też wyznaczanie elementów orbitalnych. Plusem takiego rozwiązania jest możliwość stosowania różnych znanych metod obliczeń na różnych etapach obróbki poprzez zamienne używanie różnych modułów IMOgeny.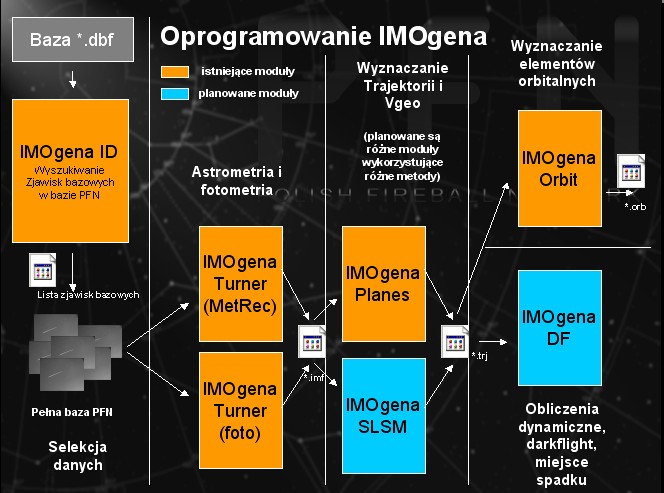 Prace nad zestawem programów zapoczątkowane zostały w listopadzie 2005 roku. Do lipca 2006 roku powstały wersje beta podstawowych składników. We wrześniu 2006 program został zaprezentowany na EUROPLANET N3 strategic workshop on Meteor Orbit Determination w Roden (Holandia) gdzie osiągnął rezultaty identyczne z oprogramowaniem zaprezentowanym przez ESA. Przetestowane składniki IMOgeny w wersji 1.0 pojawiać się będą na stronie PFN sukcesywnie od początku 2007 roku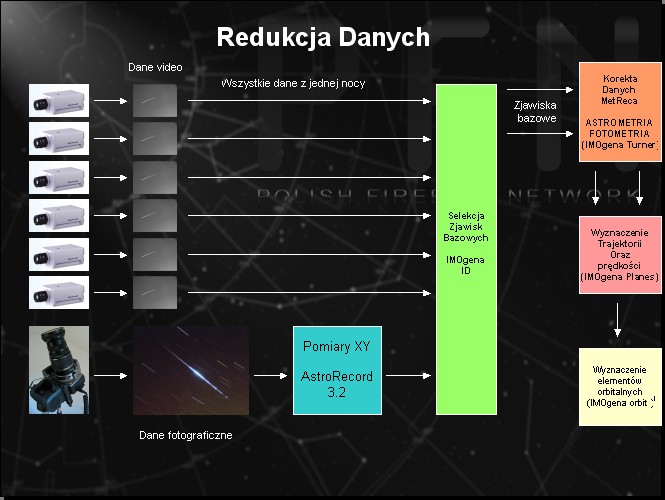 Projekty do realizacji
Jest bardzo wiele rzeczy do zrobienia. Nie tylko obserwacjami można wspomagać PKiM.
Potrzebujemy programów liczących lub wspomagających wprowadzanie danych do komputera. Są też do wykonania bardziej humanistyczne jak pisanie wiadomości, poradników.
Poniżej znajduje się lista projektów którymi możecie się zająć. Nie wszystkim może się zając Zarząd PKiM a wiele rzeczy może zrobić osoba nawet nie będąca ekspertem w meteorach. Ich realizacja bardzo ułatwiła by nam życe. Zachęcam do współpracy.
Analiza danych video w programie Radiant
Program Radiant to najpopularniejsze, choć wiekowe narzędzie do analizy dużych baz danych meteorów. Umożliwia dokładną ocenę położenia i dryftu radiantu roju meteorów, gorzej radzi sobie z ustaleniem np. daty maksimum. Zapraszam wszystkich, którzy mają trochę czasu i wolnej mocy obliczeniowej do pracy z tym programem i naszymi danymi.
Poniżej załączam najnowszą bazę danych z PAVO wraz z dwoma plikami konfiguracyjnymi. Artykuł o obsłudze Radianta autorstwa Mariusza Wiśniewskiego ukazał się w "Cyrqlarzu" nr 166. Linki prowadzą do strony z programem i jego dokumentacją oraz największej obecnie dostępnej bazy w internecie -- bazy AKM. Wszelkie pytania dotyczące analizy danych można uzyskać na grupie dyskusyjnej PSOT (pkim-psot@yahoogroups.com) lub od Zarządu (pkim@pkim.org).
PS.
Baza zostanie dodana wkrótce.
Program do wklepywania obserwacji teleskopowych
Potrzebny banalny program wyświelający pole widzenia teleskopu na podstawie katalogu Tycho2. Nastepnie trzeba odczytać współrzędne gdzie kliknie się myszę (poczętek i koniec) i zapisać to do pliku. Przydały by się jeszcze pola z formularza jak predkość meteoru itp. Wklepanie obserwacji teleskopowej stanie sie bardzo latwe.
Projekt Raportu Bolidowego na strone www
Potrzebny jest Raport Bolidowy. Takie doniesienia są głownie od przypadkowych osób które nie znają się na obserwacjach meteorów ale chcą się podzielić wrażeniami. aktualnie jest do tego Astro-Forum.
Widziałem w sieci kilka formularzy bolidowych. Sa lepsze i gorsze. Te gorsze są suche i odstaraszają. Są i lepsze jak finski, który prowadzi za rączkę. Zadaje pytania obserwatorowi starając sie przypomnieć mu kilka faktów, przypomina jak w przybliżeniu określić jaki był kierunek świata, wysokość, prędkość, co się z nim działo. itd.
Może ktoś chciałby taki raport przygotować. Wystarczy przejrzeć kilka już istniejących i dorzucić troche swoich pomysłów. Nie trzeba do tego wiedzy programistycznej. Swieźe spojrzenie bardzo by się przydało. Rutyna zajmowania się bolidami sprawia, że nie zdajemy sobie do końca sprawy z tego jaka jest wiedza typowej osoby wypełniającej formularz. Po za tym teksty mogły wyjść za suchy, techniczny i by zniechecał do dokończenia wypełniania.
Jak będzie projekt to osoba znająca się na pisaniu stron juz z łatwością go przerobi w formularz.